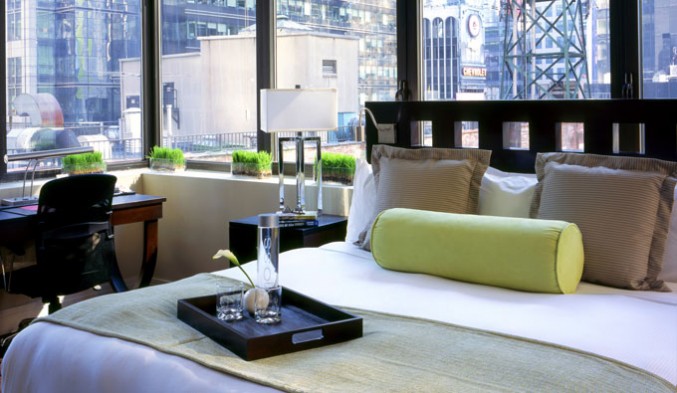 ELEGANT PENTHOUSE SUITES WITH MIDTOWN MANHATTAN STYLE
For the business traveler who needs just the right setting, Hotel Mela's two Penthouse suites, ranging in size from 700 to 875 sq. ft., are spacious and ultra-chic, with great views of the Midtown Manhattan skyline.
These sophisticated, decadent suites are decorated with draped silk, black parrot textile and Mamba leather, creating a perfect backdrop for business and relaxation. Exclusively designed to blend the best in luxury with state of the art facilities, each Penthouse suite features a separate bedroom, with adjoining fullbathroom and living room, separate wet bar area, as well as 40" LED plasma televisions, DVD, CD and iHome Entertainment Centers.
When your business calls for entertaining, Hotel Mela's Penthouses convert to impressive event and meeting space. Available for all-day executive summits, client receptions, cocktails, fashion collection presentations and a variety of other intimate events, the Penthouse suites comfortably accommodate parties from 5 to 25 individuals.
Submit an RFP today to reserve the Penthouse for your next stay and let our event staff help you plan the perfect gathering.